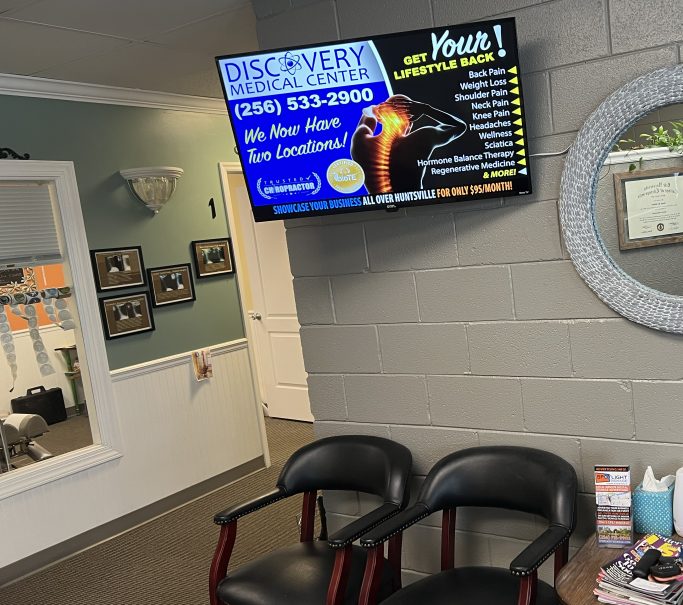 Do you own/manage a business here in Huntsville? Your location might make for a great fit to be a host location! Host locations receive a FREE AD on all the other screens on the network forever! We will open up the screens for outside advertising as we continue to grow the network's size! Our indoor signage screens display a combination of spotlights of local businesses, trivia, weather and news!
All screens are 40″ or larger in the most highly trafficked area of the business!
Current Screen Locations:
Discovery Medical Center | South East Huntsville
7914 Memorial Pkwy SW, Huntsville
Discovery Medical Center | 5 Points
502 Pratt Ave NE, Huntsville
Straight Razor Barbering and Grooming Lounge
7950 Hwy 72 W, Madison

Mexibbean Island Grill
200 Oakwood Ave, Huntsville
Mortgage Right
117 Clinton Avenue E.

Loud House Barber Shop
4925 University Drive NW, Suite 140 Huntsville
Avalon Family Care
540 Hughes Rd Ste 4, Madison
Sac's Kitchen
6008 Mastin Lake Rd NE B, Huntsville
Squad Fitness Huntsville
3230 Leeman Ferry Rd SW, Huntsville

Edna Rose Beauty Boutique
7001 Wall Triana Hwy Suite C, Madison
WITH MANY MORE LOCATIONS TO COME! 
INTERESTED IN BECOMING A HOST LOCATION…
Fill out the quick form below to see if you might be a good fit!